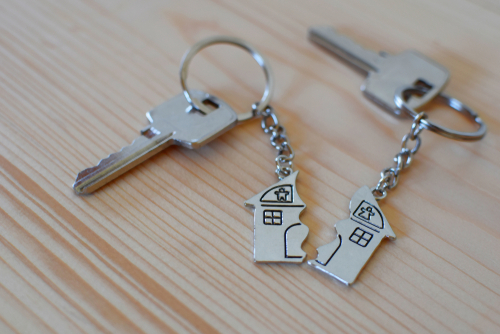 Tammy Wynette sang about it, 40-50% end up doing it, and it ranks as the second most stressful life event.   I am referring to D-I-V-O-R-C-E.  Since Covid-19 infected our lives, marriages have been undermined by economic, mental and emotional issues.  Take all of these challenges and throw them within four walls (and a roof) and some marriages have collapsed. What happens though when "for better or for worse…as long as you both shall live,' is no longer a solemn promise but more of an expensive bout of insanity, resulting in two kids, a dog, and a house?
Kids and the dog aside, what happens during a divorce to the matrimonial home? I've worked with a number of couples during their divorce.  Tension and irritability often marked their interactions, but they were delighted to see me as the accelerator of their closure. One couple that I represented decided to stay in their house during the divorce.  She moved out eventually, while he stayed in their gorgeous estate home. He kept the home pristine, so it sold quickly. They went their separate ways and never the twain shall meet again.  My clients from another divorce both sprung out of the house during a major disagreement. Everything was gone, wiped clean like breadcrumbs off a countertop. Not a stitch of furniture left. Before the for sale sign went up, the house was professionally staged. As to be expected with such staging and signage, an offer came in.  My clients had previously communicated to me what they wanted in terms of price and terms, and my duty was to deliver on that.   So I did.  Digital signing made the transaction effortless and clean. Neither of them had to interact.
In Alberta, a matrimonial home cannot be sold, rented, or mortgaged without the written consent of both parties. This is also the case when only one spouse is registered on title. Over a hundred years ago, Emily Murphy (one of the Famous Five) campaigned for women's property rights. As was the case at that time, many women were left penniless when their husband's sold the homestead out from under them. This dire situation was dealt with under new legislation. In 1917, the 'Dower Act' provided protection to a living spouse, a home could not be sold without written consent. This act also applied to a widow who would receive the right's to the life estate.
During a divorce, before the house goes up for sale it's good to know what the potential costs are.
Is there a mortgage penalty? Contact your lender or mortgage broker.
What are the closing costs? Contact a real estate lawyer.
Will I need to stage the home? Get quotes from staging companies.
Does my home need any repairs or maintenance? Contact a contractor, painter, cleaning company, for example.
Is there a current and updated Real Property Report (RPR)? If not, contact a land survey company.
What will the real estate costs cover and what will those cover? Contact Jacqui Williamson
There are multiple reasons why divorce is so stressful, in fact only the loss a loved one in death tops it. (Life Change Index Scale). I think (in part) it's because all the memories collected within a home can't be neatly packaged up. The void that is left loudly proclaims what should never have happened, but sadly did. While those years are never lost, they never will find their way back. The kids, the dog are living proof of past happiness and joy. While the hamsters, budgie, bunny, turtle and goldfish only reside in the love the kids once had for them. Leaving the key behind, the front door closes, and just one more look. There may be a few tears, but likely there is a feeling of relief.

Getting the right REALTOR® is key to selling a home in any situation, but when it is complicated by divorce, whether amicable or contentious, it is not just the right REALTOR® that is needed, but also a skilled professional that is empathetic and kind, that treats both parties with dignity and respect.
I'm that R-E-A-L-T-O-R®.

This is written for general information purposes only, and is not intended as legal advice.